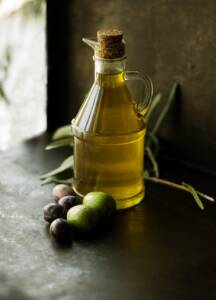 The extra virgin olive oil by Colle del Marchese is strictly extra virgin according to European rules (EEC Regulation No. 2568/91 and subsequent updates). Based on those rules, in order to be marketed as Extra Virgin, an oil must:
be produced only through extraction by cold mechanical methods and according to controlled temperatures below 28° C;
have an acidity not exceeding 0.6%.
Our oil respects both the rules thanks to our natural methods in harvesting and production as well as thanks to a continuous and rigorous quality control aimed at preserving the pure, genuine and energetic flavor.
Furthermore, our company enhances the community members to adopt "clean", organic and eco-friendly methods of pruning, fertilization, disinfestation in order to keep under control the acidity of the final product. To the aim, great attention is also paid to the ripeness of the olives and to the time between harvesting and grinding. In effect, the not too ripe olives which are processed soon after harvesting give small amounts of oil with extremely high and strong nutritional benefits.
Finally, our company delivers periodic updating courses related to the best practices cultivation of olive trees to the aim of keeping an excellent raw material that can assure an exceptional finished product, such as range of products.